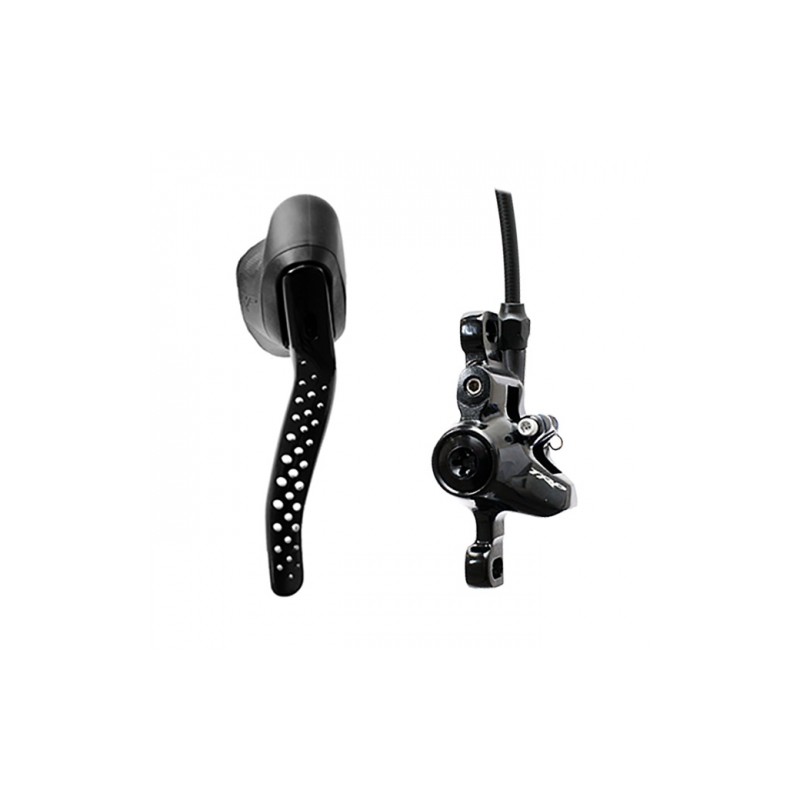  
TRP Hylex RS
Hydraulisk skivebremse med greb og kaliber til singlespeed
TRP Hylex er en hydraulisk skivebremse med greb og kaliber til singlespeed - eller alternative løsninger.

Hylex bruges især til cyklecross og gaderacere

OBS: Sælges enkeltvis som henholdsvis højre og venstre greb

Øvrig beskrivelse:
The holy lever to rule them all. The Hylex RS sports a sleek drilled out black lever blade with subtle black on black paint job. The Hylex puts all of the performance benefits of hydraulics into the hands of the rider.
A drilled out lever blade shaves weight as well as improves grip. This is a full hydraulic disc brake system for drop bars. It sports an integrated master cylinder in the low-profile ergonomically shaped lever body. This brake is for single speed aficionados, the riders who bridge the classic and reverent with speed.
- Full Open Hydraulic System
- Ergonomic and perfectly sized hoods create a natural extension from the rider's hands to the bike       
- Utilizes TRP's semi-metallic pad compound
- Compound works well in dry conditions but may wear quicker in wet/muddy conditions
- Compatible with Shimano M525/M515
- Rotors, adapters, and flat mount mounting bolts sold separately

A separate bleed kit is required for shortening brake lines
Front Brake is a left-hand lever with 800mm hose
Rear Brake is a right-hand lever with 1800mm hose